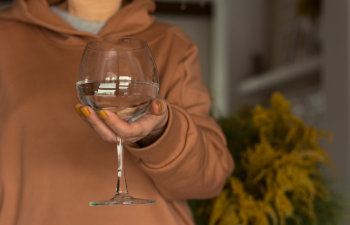 You may already know how sodas, energy drinks and fruit juices can damage your teeth over time, but what about those nightly glasses of wine? Alcoholic drinks don't just pose threats to your overall health, these beverages can also contribute to several dental issues over time. These dental health risks are significantly greater if you are a heavy drinker. In fact, gum disease, cavities, mouth sores, discoloration and oral cancer are all dental concerns that are more common in patients who drink heavily.
What is Considered "Heavy Drinking"?
NIAAA defines heavy drinking for men as consuming more than 4 drinks on any day or more than 14 drinks per week. For women, heavy drinking refers to consuming more than 3 drinks on any day or more than 7 drinks per week.
How Alcoholic Beverages Threaten Your Smile Health
While the occasional glass of wine or a few beers on the weekends may be safe for your teeth, those with alcohol-use disorder or those who drink heavily are at risk for many oral health problems, including:
Higher plaque levels (setting the stage for decay and gum disease)
Tooth loss (3 times more likely than non-drinkers)
Dull Teeth or Teeth staining (acidic wines cause enamel erosion and dark beers cause discoloration)
Dry mouth (which leads to less protection against cavities and bad breath)
Let a Dentist Evaluate Your Smile
Not sure if your drinking habits are impacting the health of your mouth? At Roswell Complete Dentistry, we can properly evaluate your teeth and gums to ensure that your smile isn't suffering from your drinking habit. Our dentists like to see patients on a routine basis so that we can catch and prevent minor dental problems before they become costly and serious.