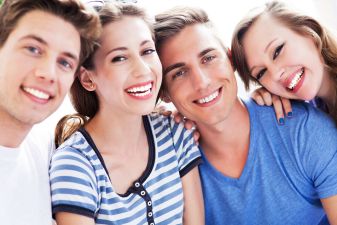 Many people think a dental cleaning is just something you get to spruce up, like a haircut or facial.
Did you know, however, that professional cleanings do more than just make your teeth look brighter? They also have health benefits.
What Happens in a Dental Cleaning
A teeth cleaning involves removing soft and hard deposits from the enamel surface. Some of these deposits, like plaque bacteria, can also be removed with a toothbrush and floss. But if not cleaned off in time, plaque will harden into something called calculus or "tartar".
Calculus only comes off with the help of special dental tools. They're designed with sharp edges that catch calculus deposits right at the edge to pop them off the tooth.
After freeing your teeth of these hard deposits, the hygienist then polishes your enamel to wick away remaining plaque and to buff away surface stain.
Health Benefits of Regular Dental Cleanings
A cleaning every three to six months will prevent calculus from building up to the point that it starts accumulating below the gums. Once it does that, it can attract more bacteria which will cause the gums to get inflamed.
Gum inflammation can lead to full-on gum disease, or periodontitis, if not treated. Periodontitis, in turn, is linked with other health conditions including diabetes, Alzheimer's, pneumonia, and heart disease.
Regular dental cleanings prevent gum disease and all the other conditions it puts you at risk for.
Additionally, regular dental visits that include exams and x-rays help you stay on top of your oral health and avoid major problems.
Are you overdue for a cleaning? Schedule your next dental checkup in Brookhaven right here at Elegant Smiles.