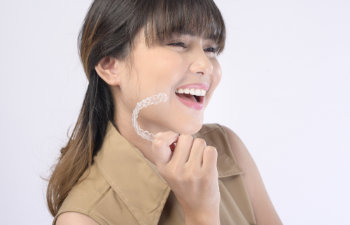 It is never too late to straighten your smile. At Roswell Complete Dentistry, we offer favorable options for adult braces. We understand that time and visibility are major concerns when considering orthodontics as an adult. Therefore, we proudly offer clear aligner therapy that can straighten your teeth without the drawbacks of metal braces.
While straight teeth certainly boost your smile appearance, they also promote the health of your smile. Crooked, crowded or misaligned teeth can make brushing and flossing difficult and create areas in your smile that are vulnerable to decay and infection. Properly aligned teeth also foster a more comfortable bite, which can take stress off your TMJ and reduce discomfort. By straightening your teeth, we can help retain a healthier and more attractive smile for years to come.
OrthoFX Clear Aligners
If you imagine orthodontic treatment as an adult as wearing bulky metal braces to your next board meeting or high school reunion, we've got good news. With clear aligner orthodontics like OrthoFX, adults have everything to gain and nothing to lose when it comes to straightening their smile.
OrthoFX is the only clear aligner on the market manufactured from FXTetra polymer. This material is smooth, durable, and resistant to staining—keeping your aligners truly invisible throughout your treatment. This orthodontic system also relies on a combination of AI and physician monitoring, which means you can stay on track with your progress without having to come in the office for frequent visits. The convenience and confidence you can retain while straightening your smile with OrthoFX is unrivaled.
To learn how easy it can be to straighten your smile as an adult, call Roswell Complete Dentistry